CERTIFICATIONS: AOWI, DCS, DCSI, DG, DM, DMI, ITC, OWI, SNOI,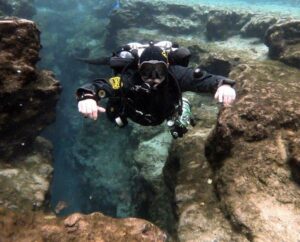 Q: Why do you dive?
A: I can't imagine life without diving!
Q: Why did you decide to instruct diving?
A: I've been inspired by my instructors.  They have helped me achieve the skills and experience necessary to minimize risks when diving into amazing environments most humans never get to experience firsthand.  Rewarding relationships develop between divers, including students and their instructors.  I aspire to develop students skills to a level which will enable them to fully experience the wonders of the three dimensional world below the surface.
Q: Why Instruct at Dive Tech?
A: Rewarding relationships naturally develop between divers of all levels.  Two of my friends/dive buddies (Rick A. and Don M.), recently joined/rejoined Divetech.  They both spoke highly of Divetech's ownership and staff, and upon meeting and working with Ed, Tim, and others, I found everyone to be very personable, and highly professional.  The facility is always clean and well organized.  The pool is amazing!
Q: Number one tip for future diver?
A: I enjoy penetration diving into caves and wrecks.  Either the Crystal Caves of Abaco Island, The Bahamas (i.e.: The Glass Factory, Dan's Cave, etc.), or the wrecks of Chuuk (Truk) Lagoon would be my number one trip for the future.  That said, both (and many more) are on my list.
Q: Your coolest dive trip and why.
A: My coolest dives have been in the Devil's cave system in Florida.  My son and I would swim down the spring run, and figure thirds before dropping into the Devil's ear  Going in is against strong flow, so we would pull in through the first restriction.  Once past the restriction, we get out of the flow on a ledge to our left and rest.  Next we tie in a primary and reel to the transition between cavern and cave zones, tie into the gold line, clip our oxygen stage cylinders to our line and begin diving the cave.  The first compartment is the Ballroom, a humongous room with amazing rock features.  We rise to up to the ceiling where the flow is lowest, but continue to pull in, using the rock wall to our left.  The Ballroom ends at the Lips, another restriction through which we pull to the next large room.  From there we drop to about 9ft through the keyhole and follow the tunnel system to our objective. After the first diver depletes one-third of his gas, we turn, and drift out the way we came in.  Back at the ballroom we collect our oxygen and primary reel, but exit Devi's eye to 20 ft where we switch to 100% oxygen and meet our decompression obligation.  Once clear deco; we rise back up and out of the eye, swim the spring run get out to take a break, before we go again.  I'm addicted!