CERTIFICATIONS: CDI, DCS, DG, DM, ITC, OWI, SNO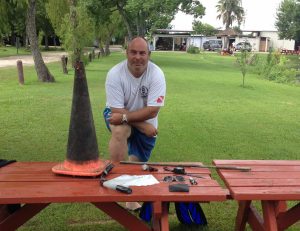 Q: Why do you dive?
A: I dive for three reasons: 1) It offers me an opportunity to challenge myself and my abilities while constantly learning. 2) It gives me the opportunity to see and experience things that less than 1% of the earth's population will ever know. 3) It surrounds with amazing people with whom I share a common bond and passion.
Q: Why did you decide to instruct diving?
A: I decided to become an instructor because I wanted to share my passion and enthusiasm with new divers, while making sure they are comfortable and confident in their skills. There is no greater reward than seeing a new diver have that "ah-ha" moment when everything comes together and makes perfect sense. (Well…okay, winning the "Mega Millions Jackpot" would probably be right up there too, but I'd just end up spending the money on diving.)
Q: Why Instruct at Dive Tech
A: I instruct at Dive Tech because I know Edward, Mendel, the instructors and assistants have a sincere passion for diving, which they love to share with their students. The Dive Tech crew wants you to be a comfortable and confident diver. Even after you are a certified Open Water Diver, they want you to continue to learn, grow and enhance your skills and abilities and develop your own lifelong passion for diving. I just don't have the time or patience to put up with people who look down on new divers with the "I'm an instructor" attitude and don't care about helping a new diver grow their skills and confidence. The Dive Tech team knows that learning to scuba dive can be intimidating and they work hard to make sure their students have the skills, knowledge, experience, equipment and confidence to become lifelong divers.
Q: Number one tip for future diver?
A: Slow down and relax! Diving is not about speed, it's about being deliberate slow and comfortable in what you are doing.
Q: Your coolest dive trip so far and why.
A: Wreck Diving the Texas Clipper off S. Padre Island, during Dive Week 2016. I enjoy wreck diving and recovering items, so when I get to do both at the same time…I'm a happy camper. It was a great week of diving with good people and I was able to comfortably combine skills and knowledge from: Open Water, Night & Limited Visibility, Deep Diving, Enriched Air Nitrox, Perfect Buoyancy, Search and Recovery, Wreck Diving, Boat Diving, Navigation and Underwater Photography & Video. There are few things which can compete with that sense of accomplishment.