CERTIFICATIONS: AOWI, DCS, DCSI, DG, DM, DMI, ITC, OWI, SNOI,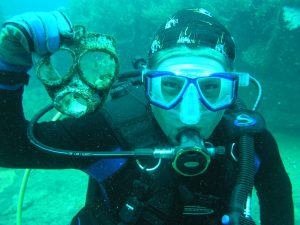 Q: Why do you dive?
A: I dive because of a feeling. As soon as I enter the underwater realm, I knowingly and intentionally unplug that subjugating umbilical cord from our ever-connected world and experience total weightlessness and peace!  The tranquility beneath the water is, by far, one of the greatest perks of scuba diving.
Q: Why did you decide to instruct diving?
A: For years, I enjoyed a pleasant and long-term run as an unofficial assistant to my scuba mentors and friends – until one day, the bulk of them decided to retire.  Who knew?!  Realizing how much I would miss the experience of introducing SCUBA to brand-new divers, I decided to step up, make it official, and complete my own instructor certification.
Q: Why Instruct at Dive Tech?
A: Divetech cultivates a kinship with customers and staff that is unparalleled.  Divetech treats its students like family, and when it comes to training, it nurtures confident, prepared, and capable scuba divers.  We encourage every new diver to continue diving with us every time we are out at the lake.  It's always great to see our people again!
So, don't be shy.  If you need a dive buddy, we are your dive buddy.  However, in turn, we just might put you to work underwater.  After all, families help each other!
Q: Number one tip for future diver?
A: Before certification and during your training:  Breathe. Relax. Enjoy.  After getting certified…repeat! Often!
Q: Your coolest dive trip and why.
A: All of them, until the next one comes along!
Seriously, I am fortunate enough to have many exceptional experiences to choose from. How could I pick the coolest one?  I mean, which would you choose?
Would diving with wounded warriors be one of your top picks?  How about, "Admiral, there be whales here!"?  Or perhaps, sharks appearing and vanishing from behind the oceanic curtains?  Let's not forget, the twisted  hallways, corridors, and compartments of sunken ships of WWII, where up is down and down is up?  Is that "R2D2" I see underwater?!!!  Then, how would you rank altitude diving at a decommissioned Atlas F-type Missile Silo? Or how about encountering live torpedoes and ordnance, can you say perfect buoyancy boys and girls? Standing on the deck of the big "O" aircraft carrier has to rank up there as well.  Finally, experiencing the total darkness and only seeing the lit silhouette of a crashed sunken "spacecraft"?  this last one was actually one of my favorites.  Seeing it, made me feel like an astronaut in outer space.  Overall and always, experiencing the weightlessness feeling in total darkness in the open ocean is remarkable!
Former Students learning to be good dive buddies by equalizing often, staying together, and checking with one another!