CERTIFICATIONS: AI, SNOI, DM, DG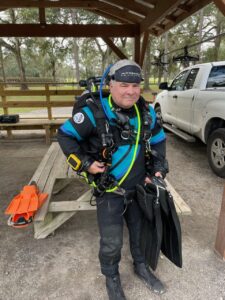 Q: Why do you dive?
A: Growing up in the 70's, I was always fascinated by the National Geographic specials with Jacques Cousteau as he explored the ocean depths, seeing and experiencing what few others could.  As SCUBA diving became more "mainstream", I decided at the age of 16 to get my open water certification.  I instantly fell in love with it.  For me, diving is not only a relaxing and rewarding hobby, but a passion as well.
Q: Why did you decide to instruct diving?
A: I enjoy sharing my passion for diving and seeing students face light up as they realize they can "breath underwater".
Q: Why Instruct at Dive Tech?
A: As my training progressed and I completed multiple specialty and advanced courses, I would run into some of the same faces. They all spoke highly of Divetech. When "my" shop closed down, I chose Divetech because of their focus on the needs of the student and new divers.
Q: Number one tip for future diver?
A: Breath, relax, and repeat.
Q: Your coolest dive trip and why.
A: Chamber dive, Freeport Bahamas, UNEXSO, more sharks than I could count.