CERTIFICATIONS: AI, DCS2AI, DG, DM, SRGI, DCS.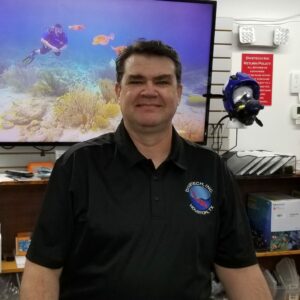 Q: Why do you dive?
A: Ever since a childhood trip to the Catalina Island Marine Institute, I have had a love for snorkeling and wanted to learn to scuba dive.  There is nothing more relaxing than gliding along at 60 feet with only the sound of my own bubbles.
Q: Why did you decide to instruct diving?
A: An instructor always invited me to come to the lake when they were teaching open water courses.  After a season of hanging out with him and taking many specialty courses, he encouraged me to become a divemaster to continue my training and begin to share the underwater world with others.
Q: Why Instruct at Dive Tech?
A: I chose Divetech because of the staff and the owner.  The staff shares my belief that diver safety and comfort in the water are the number one priority for diver training.
Q: Number one tip for future diver?
A: Stay active in diving.  Take a specialty course, sign up for a dive trip, or just come hang out at a local lake and dive for fun.  The more you dive, the more comfortable you will be, and the more you will enjoy your dives!
Q: Your coolest dive trip and why.
A: The cenotes of the Yucatan peninsula.  There are dozens of different cenotes that all have unique features: shallow dives, deep dives, different rock formations, and fossils.  You can even dive through a cloud layer that looks like water surrounding a tiny island.  The water is so clear that I have truly felt like I was flying, weightless in space.