CERTIFICATIONS: AI, SNOI, DM, DG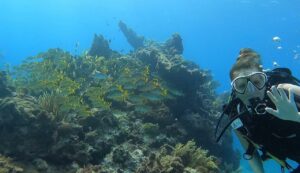 Q: Why do you dive?
A: I have always been enamored by the sea. As a kid, I thought I would grow up to be a marine biologist. That didn't happen, but I discovered SCUBA is all the fun of the ocean, without any of the lab work! There is nothing quite like the anticipation of gearing up and taking that giant stride into open water. From the boat, all we see is blue. Beneath is an entirely different world, full of life and color and surprises as soon as you drop below the surface. Every ocean dive is an opportunity to witness first-hand a piece of our planet's largest ecosystem, how cool is that?
Q: Why did you decide to instruct diving?
A: It was a natural progression. I started taking more courses, expanding my knowledge and experience. Once I did the Stress & Rescue course (my favorite of all the courses, by the way!), I felt like maybe I could actually go pro after all. The instructors and team at DiveTech are all so supportive and it just felt like the right next step!
Q: Why Instruct at Dive Tech?
A: I started as a customer with Dive Tech. After a couple of years of the crew answering ALL of my questions, helping me pick out new gear, servicing my less than new gear, encouraging me to try various courses in continuing my own diving education, it only made sense to take the plunge and join the DiveTech family as a professional. The shop and the team are like a second home to me, and I am always learning from them!
Q: Number one tip for future diver?
A: Breathe! It is not natural for humans to breathe underwater, so it can take a little bit for the brain to decide "hey, this is awesome!" Whether it's in the pool, a local lake or out in the great blue sea, just slow down, breathe and take it all in. SCUBA is a slow, lazy sport – enjoy it!!
Q: Your coolest dive trip and why.
A: Galapagos Islands, Ecuador. Besides getting to see schooling scalloped hammerheads?!? The islands just feel magical. There is so much life – sea lions, spotted eagle rays, green sea turtles, reef/Galapagos/hammerhead sharks, garden eels, nudibranchs. One dive, we could even hear humpback whales singing. Every dive was an adventure!