CERTIFICATIONS: AOWI, DCS, DCSI, DG, DM, DMI, ITC, OWI, SNOI, AA, AOWD, BD, CD, DCS, DG, DGNA, DM, GD, IDD, MD, OWD, PD, RC-SSI, REF, SC-BD, SC-COM, SC-DD, SC-EAN, SC-EAN32, SC-ET, SC-LV, SC-NV, SC-PB, SC-PV, SC-REC, SC-SOD, SC-SPF, SC-SR, SC-WR, SD, SILD, SNO, SNOI, SP, SPI-BD, SPI-COM, SPI-DD, SPI-EAN, SPI-ET, SPI-LV, SPI-NV, SPI-PB, SPI-PV, SPI-REC, SPI-SOD, SPI-SR, SPI-WR, SSU, TS-P, TSS-BD, TSS-COM, TSS-ET, TSS-NV, TSS-PB, TSS-PV, TSS-SOD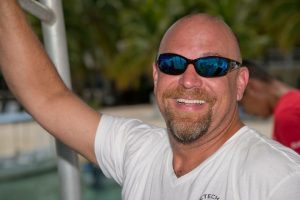 Q: Why do you dive?
A: Since at a young age I have been fascinated by the underwater world so Scuba Diving for the past 30 years of my life has been an incredible journey and, there are still so many new places to discover! The customers I have traveled with since the 80s, and still do to this day, have become like family here and we look forward to growing that family. It is truly a fantastic experience getting to know your peers by spending time with them and sharing adventures.
Q: Why did you decide to instruct diving?
A: Teaching Scuba Diving is extremely rewarding, the first time you see someone's expression when they realize they are actually breathing underwater is incredible. Once a new divers experience something other than the pool or lake for training it opens up a whole new world to them and the fascination begins.
Q: Why Instruct at Dive Tech?
A: I love teaching here, I have been doing it for so many years that now I am certifying third generations of former students which, to me, families that enjoy Scuba Diving will continue to do it forever! I designed a movable platform for our facility pool that can be adjusted to fit everyone's comfort and level for training. Since this has never been done before we can truly customize the training for anyone. The flexibility to teach new and experienced divers skills in our heated pool is fantastic and, bringing the underwater world to new divers is truly a pleasure and such a great experience.
Q: Number one tip for future diver?
A: Oh, too many wonderful places to choose from. We have been leading groups and booking individual trips all over the world for 30 years now, and living in Houston gives us such a great opportunity to choose from the many Caribbean islands less than 3 hours away; It honestly depends on what customers are looking for topside. Scuba diving is just part of the great experience on our trips, you typically get the weather you want, beautiful beaches, 5 star resorts, valet diving, or if you're just looking for a secluded hut in the beach with minimal interruptions we can set anyone up for their dream vacation.
Q: Your coolest dive trip and why.
A: Again so many to choose from but, I would have to say my favorite place I have been to and sincerely enjoyed the diving and culture would have to be Fiji. I have never been to a location where people are so friendly and inviting. From the beautiful soft and hard coral formations, to the plethora of wild marine life, the diving in Fiji is truly a kaleidoscope of colors and shapes and houses the most scenic views topside making it my favorite place I have been. Other than that I would have to say Cozumel is still my go to place. It is convenient, inexpensive, and has some of the most beautiful water I have dove in.