CERTIFICATIONS: BRI, CDI, DCS, DG, DM, ITC, OWI, RRI, SNOI, XRI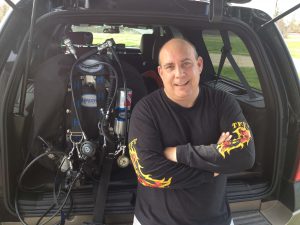 Q: Why do you dive? 
A: My fascination with the water that covers three quarters of the planet has been lifelong. I was born across the street from the Mediterranean Sea, served in the U.S. Navy, and then 7 years as a U.S. Merchant Marine officer, I've always loved the water and been fascinated by shipwrecks, and their history. For me the Sirens call has always been shipwrecks. I watched Jacques Cousteau and Sea Hunt growing up and was hooked. The first time I had an opportunity to snorkel in Cozumel I realized, I want to be down there, not up here. I've been diving for 18 years, and absolutely love it. Diving brings me a certain peace I can't have on land, you don't worry about school, work, bills etc. Diving is the ultimate form of mental relaxation, when you dive you're in the moment. The amazing sights, vibrant colors and beautiful fish and reefs is just a bonus for us wreck-heads.
Q: Why did you decide to instruct diving?
A: I want to give back to our community, diving has personally brought me more joy and pleasure than any hobby I've ever tried. I want to help others to transit the amazing underwater realm safely and have the opportunity to chase their dreams.
Q: Why Instruct at Dive Tech?
A: Simple, Edward Luedtke and Divetech opened the underwater world for me, and helped me push on and achieve some of my most important life goals. Edward and his team have always been there with advice, instruction, and equipment and helped me build a solid foundation which enables me to do some very interesting technical diving.
Q: Number one tip for future diver?
A: As long as you have a regulator in your mouth and you have gas to breathe, you can escape the surface world. Do it, don't wait, there's so much to see around the world and so little time.
Q: Your coolest dive trip and why.
A: Chuuk (aka Truk Lagoon), 75 sunken Japanese ships from WWII with all manner of war material, from periscopes to airplane fuselages, diving off of the Truk Odyssey we were tied up to a wreck 24 hours a day, unless we were moving to the next wreck. Wake up at 4am and want to dive? The pool is open. All this along with a group of friends that you wouldn't think twice about trusting as your dive buddy. Friends that you know have your back in any circumstances. Friends you'll have for life.