CERTIFICATIONS: SNOI, DM, DG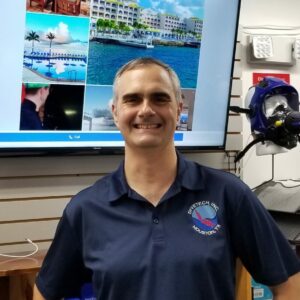 Q: Why do you dive?
A: There are many reasons why I enjoy diving, but exploration, photography, relaxation, and camaraderie are probably the most important motivations for me. Diving gave me an opportunity to expand my exploration and photography horizons to include underwater worlds with its inhabitants and everchanging settings. It is also a way for me to escape emails, meetings, and complexities of everyday life. And finally, it gets me to know my family better and allowed me to meet exciting people who share the passion for diving.
Q: Why did you decide to instruct diving?
A: I am a divemaster and I have not started yet on a journey to become Assistant Instructor. For now, I am happy to share my experiences with other divers. Help them gain confidence in diving by being their buddy in diving classes. I also enjoy helping with the classes where I can observe instructors – there is always something useful to learn from them. My interactions with instructors, fellow divers and students gave me a lot of opportunities to refine my own diving skills before I decide to become an instructor.
Q: Why Instruct at Dive Tech?
A: I have started my divemaster training in another dive shop that closed its doors since. Dive Tech staff embraced me, made feel at home, and helped me grow as a dive professional. Dive Tech owner and staff are very experienced professionals focused on excellence in diving, respect for customers preferences, enjoyment and needs as well as safety in all aspects of the sport – equipment, training, and dive guiding.
Q: Number one tip for future diver?
A: Be humble, keep diving and never stop learning. A good dose of balance between confidence and caution will go a long way to enjoying diving safely for years. Considering that we spend only a small fraction of time underwater, we benefit from acknowledging that we always have something new to learn, re-learn and experience. Taking training and using new skills on the next dive would allow you to improve your diving. Listen to instructors, ask for feedback on your dive habits and dive frequently to apply newly acquired skills.
Q: Your coolest dive trip and why.
A: I have done most of my diving travel in the Caribbean. One trip that stood out was a week-long stay on Little Cayman. The island has 270 inhabitants and is probably one of a very few places in the world where people do not lock the doors to their houses and hotel rooms. Our resort did not even offer a key to the room. One of the spectacular dives we experienced there was a sunset dive on the Great Wall in Bloody Bay Marine Park. We entered the water in the deep blue sea away from the dive site and swam towards the reef wall at the depth of 30-40ft. It was quite breathtaking to see a huge wall of coral gradually emerge ahead of us. The wall was nearly vertical and disappeared below to the abyss. After exploring the reef up close, we resurfaced just in time to see half of the sun setting at the water horizon. Spectacular!