CERTIFICATIONS: AI, SNOI, DM, DG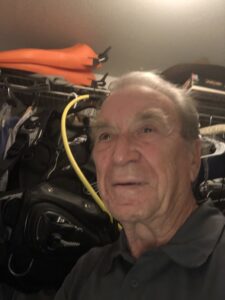 Q: Why do you dive?
A: I was 14 when Cousteau shot his first movie " Le Monde du Silence" and I knew then that I would dive one day. Life, college, money and my job were all in the way but finally after 52 years, I had my first experience underwater. And I would not live now without this feeling of freedom, of weightlessness. Without these rare moments when I have the feeling I am accepted by a turtle, a grouper or a frogfish…
Q: Why did you decide to instruct diving?
A: A 12 years old kid, son of a friend, became interested in diving and I witnessed his Instruction from Open Water training and certification, to his first dive in Roatan. I witnessed his sheer joy, his wonderment. And I believe this was the reason I decided to help others, kids or adults. To see this moment of pure delight when they realize it beats diving on your sofa, even with Cousteau on TV.
Q: Why Instruct at Dive Tech?
A: Diving requires knowledge, responsibility, trust, and if you find all that wrapped up in one package, you can enjoy yourself and have fun. People at Divetech are all that and more. And being part of their team will challenge me and call for the best I can muster.
Q: Number one tip for future diver?
A: We are not made to live underwater. But with the proper equipment, the right knowledge and the physical ability, we can spend some short periods of time with the fish, the corals, and have fun. Never forget that you are a visitor. We don't belong , and we have to respect this alien world, its denizens, and not behave like the masters, the conquerors of this underwater universe.
Q: Your coolest dive trip and why.
A: 2008, Tahiti. Just 2 weeks off, relaxing. I was not a diver yet. I was cruising and I saw a dive shop: Fun Dive. I remembered The Silent World and on the spur of the moment, I stopped and I had a crash course. After an hour, I was ready to dive!!! And before the splash, I had time to count 5 dorsal fins, surely sharks. Once in the water, there were more than 50 sharks, black tips mostly but some lemon and some bull sharks. As usual they were curious, but not hostile, and after 15 minutes my guide showed me a couple of gobies…. which defended their nest and attacked us….. I caught the virus and never stopped. And now I can't believe that I had taken a crash course….